Alesia S. Sulock
Shareholder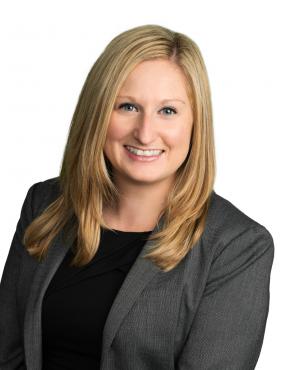 Contact Info
(215) 575-4557
Overview

Alesia is a member of the Professional Liability Department. Alesia focuses her practice on the defense of claims made and suits brought against attorneys, accountants, corporate directors and officers, and other professionals, as well as various commercial litigation matters. In connection with her practice, Alesia advises corporate clients on real estate and property matters. Alesia has significant experience in legal malpractice matters, including those arising from underlying commercial litigation, criminal matters, professional liability matters, medical malpractice matters, personal injury matters, transactional matters, and others. Alesia also represents attorneys in connection with Dragonetti suits, abuse of process claims, and disciplinary matters.

Prior to attending law school, Alesia worked as a corporate underwriter for a mortgage company in Philadelphia, PA. There, Alesia performed second level loan reviews and credit and risk analysis of loan applications. Additionally, Alesia served as the underwriter on a remediation program under which borrowers were refinanced out of pre-foreclosure loans. Alesia gained knowledge of real estate law such as the Truth in Lending Act and obtained experience in the areas of mortgage lending and in particular, mortgage foreclosure. From this experience, Alesia also represents banks and mortgage services in foreclosure-related litigation.

In 2012, Alesia earned her juris doctor from the Villanova University School of Law where she graduated cum laude. While in law school, Alesia was on the executive board of the Villanova Law Moot Court Board, and ran the annual Theodore L. Reimel Moot Court Competition in 2012. She was also a quarter finalist in the Theodore L. Reimel Moot Court Competition in 2011 and a quarter finalist in the Thurgood Marshall Moot Court Competition in both 2011 and 2012. Also while in law school, Alesia earned the Dorothy Day Award for pro bono service, primarily for her work with the Face to Face Legal Clinic, where she continues to volunteer.

Prior to entering law school, Alesia attended St. Joseph's University, where she graduated magna cum laude in 2006. She received several academic honors including the Presidential Scholarship, and she was a member of Phi Beta Kappa Honor Society.
Results

Significant Representative Matters

Obtained summary judgment in numerous complex legal malpractice matters on the basis that plaintiffs' claims were barred by the statute of limitations following application of the discovery rule.

Obtained a defense verdict following a three week jury trial in a complex legal malpractice action, arising from allegations of an attorney's failure to provide competent representation resulting in the loss of an underlying claim against a car dealership auditing company, purportedly causing twenty million dollars in damages.

Obtained a defense verdict on behalf of an attorney accused of inadequately representing a police officer in a grievance proceeding following his dismissal from the police force.

Obtained summary judgment in a complex legal malpractice matter arising from an underlying telecommunications litigation which spanned thirteen years and included two appeals.

Obtained dismissal of plaintiff's legal malpractice claims arising from an underlying release and medical malpractice claim, on the eve of trial, based on arguments made in a dispositive motion in limine.

Obtained affirmance on appeal of the dismissal of claims against an attorney pursuant to Pennsylvania Rule of Civil Procedure 233.1.

Successfully represented clients in numerous disciplinary matters, resulting in findings of no discipline.
Thought Leadership

Classes/Seminars Taught

Legal Malpractice Avoidance, Monroe County Bar Association, June 16, 2021

Avoiding Legal Malpractice, Pennsylvania Bar Institute, June 9, 2021

Trends in Claims Against Lawyers, Client Seminar, July 2018 and January 2019

Published Works

"Engagement Agreements As A Legal Malpractice Avoidance Tool," The Pennsylvania Lawyer, March/April 2022 Edition

"Reinstating the Two-Year Statute of Limitations for Legal Malpractice Claims," The Legal Intelligencer, April 15, 2021

"Responsive Pleadings," Pennsylvania Civil Pre-Trial Practice, 2018, 2019, Reviewing Author

"Common Evidentiary Issues at Trial," Pennsylvania Civil Trial Practice, 2018, Reviewing Author, 2019, Contributing Author

"Pennsylvania Legal Malpractice Claims: Moving Away From a (Nearly) Automatic Four-Year Statute of Limitations," Defense Digest, Vol. 24, No. 2, June 2018

Pennsylvania Legal Malpractice Handbook, 2017 Edition, 2019 Edition, Published by Marshall Dennehey Warner Coleman & Goggin, Co-author

Case Law Alerts, regular contributor, 2015-present
Admissions
U.S. District Court Eastern District of Pennsylvania
2014
U.S. District Court Middle District of Pennsylvania
2016
U.S. District Court of New Jersey
2012
Education
Villanova University School of Law (J.D., cum laude, 2012)
St. Joseph's University (B.A., magna cum laude, 2006)
Honors & awards
Pennsylvania Super Lawyers Rising Star
2021-2022
Associations & memberships
Claims and Litigation Management Alliance
Pennsylvania Bar Association
Philadelphia Bar Association
Professional Liability Defense Federation