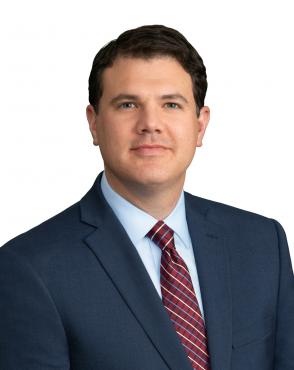 Contact Info
(856) 414-6067
Overview

Adam is a member of the Casualty Department where he handles all sorts of civil litigation matters involving claims of personal injury and property damage. He frequently advises insurance carriers and defends clients in matters of premises liability (residential, commercial, restaurant, and retail) and motor vehicle torts, including for claims of wrongful death and punitive damages. Adam also has experience defending against claims of construction defect, employment discrimination, negligent security, asbestos exposure, and products liability.

A portion of Adam's practice is also spent litigating claims in New Jersey's special civil and small claims courts, where he frequently handles claims of insurance subrogation and consumer fraud, as well as the hodgepodge of claims brought by pro se plaintiffs.

Adam also handles municipal court matters, such as defending against quasi-criminal complaints brought by the New Jersey Division of Consumer Affairs' Office of Weights & Measures.

Adam has drafted countless motions for summary judgment that have resulted in the parties reaching a mutually amenable settlement agreement before the outcome of the motion was decided. He has also had several such motions decided in favor of his clients, resulting in the immediate dismissal of all claims against them.

Adam has assisted clients in navigating through the civil court system, some for their first time. He takes additional time to counsel and advise his clients and their carriers, partnering with them to develop effective and efficient strategies for resolving their claims.

Prior to practicing civil litigation, Adam spent years practicing personal bankruptcy law in the Federal Districts of New Jersey and Eastern Pennsylvania. This has given him a unique approach to engaging in settlement negotiations, particularly when on behalf of potentially "judgment-proof" clients.

Adam graduated magna cum laude from The College of New Jersey in 2003. Thereafter, he attended Rutgers School of Law – Camden, where he was Managing Editor of the Rutgers Law Journal. He graduated in 2007. Before practicing law, Adam clerked for the Honorable Thomas A. Brown, Jr., Presiding Judge of the Criminal Division of the New Jersey Superior Court in Camden, New Jersey.

Adam calls Camden, New Jersey home with his wife and two children.
Results

Significant Representative Matters

Obtained summary judgment relief for owner and driver of tow truck involved in multi-vehicle fatality crash. Our clients' truck was struck from behind while towing another vehicle. The striking vehicle was a correctional facility transport van, which was transporting two inmates and two correctional officers. The impact caused injuries to both occupants of the tow truck and to all four occupants of the van, including fatal injuries to one of the inmates.

Our clients were target defendants of the plaintiff correctional officer who was a passenger in the van, given the immunity provided to the Department of Corrections and its driver by the worker's compensation bar.  At the conclusion of discovery, the Court accepted our motion based on the argument that a jury could not reasonably find our driver negligent despite the allegation that he had been driving too slow and despite the fact that he had received numerous citations for motor vehicle and towing violations.  Our argument relied upon the uncontroverted expert opinions reached by the State Police's accident investigator and our own accident reconstruction expert.

Obtained a summary judgment for a nail salon owner against negligence and product liability claims by a plaintiff who slipped and fell off-site while still wearing pedicure slippers. Plaintiff had received a pedicure at our client's nail salon.  When she left the premises, she continued to wear the disposable pedicure slippers.  Plaintiff then walked in the rain and eventually slipped and fell upon entering a retail store. Plaintiff brought general negligence and product liability claims against the nail salon's owner.  At the conclusion of discovery, the Court granted our motion for summary judgment based on plaintiff's admission that there was nothing wrong with the slippers and the failure of plaintiff to provide expert opinion as to the existence of any defect in the slippers.
Thought Leadership

Published Works

"Case Comment, Schoenvogel v. Venator Group Retail, Inc., 895 So.2d 225 (Ala. 2004)," Rutgers Law Journal, vol. 36, pgs. 1609-25, 2005

"The Impact of Daubert on Forensic Science," Pepperdine Law Review, vol. 31, pgs. 323-361, Co-Author, 2004

"The Impact of Daubert on the Admissibility of Behavioral Science Testimony," Pepperdine Law Review, vol. 30, pgs. 403-444, Co-Author, 2003
Admissions
U.S. District Court District of New Jersey
2007
U.S. District Court Eastern District of Pennsylvania
2009
Education
Rutgers, the State University of New Jersey School of Law (J.D., 2007)
The College of New Jersey (B.S., magna cum laude, 2003)
Associations & memberships
Camden County Bar Association
New Jersey Bar Association