Anthony Natale III
Co-Chair, Medicare Set-Aside Practice Group
Shareholder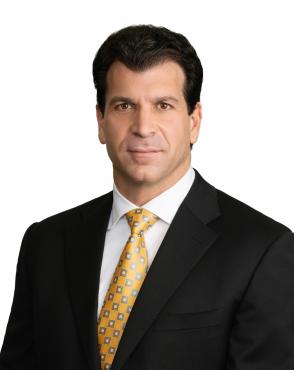 Areas of Practice
Contact Info
(215) 575-2745
Overview

Tony is the Workers' Compensation Department supervisor in the firm's Philadelphia office and also serves as the co-chair of the Medicare Set-Aside Practice Group. He devotes his practice to Pennsylvania workers' compensation, unemployment compensation, municipal law (Heart and Lung Act), and federal Longshore and Harbor workers' compensation. Tony focuses on high-exposure, complex litigation including repetitive trauma claims, occupational disease and hearing loss claims, as well as chemical sensitivity claims. He also actively represents the National Hockey League and the National Basketball Association in regard to workers' compensation matters.

Tony has represented law firms, financial institutions, forging companies, steel mills, transportation companies, aeronautical/space manufacturers, universities and hospitals in various types of workers' compensation and unemployment compensation matters. He has handled multiple high-exposure workers' compensation chemical and toxic tort claims involving mass defendants, and he has had a high success rate in having clients dismissed from same.

Tony is the founder of Marshall Dennehey's in-house workers' compensation Continuing Legal Education program. He is also frequently called upon to speak to insurance companies and self-insured employers in the areas of workers' compensation and employment law.
Results

Significant Representative Matters

Successfully argued that viewing the September 11 terrorist events and suffering a psychological condition did not rise to the degree of a work injury under Pennsylvania law.

Refined the interpretation of workers' compensation case law as it relates to the staute of limitations regarding death claims from medication abuse.

Successfully defeated and/or resolved at base value more than 400 high-exposure hearing loss cases in western and eastern Pennsylvania.

Successfully defended 50 late answer high-exposure claim petitions in eastern and middle Pennsylvania in 2007.

Successfully handled multiple heart attack and psychological claims.

Successfully handled multiple toxic tort (asbestos, silica) cases.
Thought Leadership

Classes/Seminars Taught

Workers' Compensation Case Law Update, Marshall Dennehey Workers' Compensation Seminar, October 27, 2022

Hot Topics in Workers' Comp and Litigation Trends, Philly I-Day, Philadelphia, PA, September 20, 2022

What People Do For Money:  Identifying Claimant Fraud In Workers' Compensation Cases, Marshall Dennehey Insurance Fraud 360 Seminar, Lafayette Hill, PA, June, 2022 

The Right Way to Avoid a Wrongful Termination Claim When the Employee Is Also a Workers' Compensation Claimant, Marshall Dennehey webinar, March 3, 2022

Navigate the Medicare Maze: A Practical Guide to Understanding Medicare Set-Asides, Marshall Dennehey webinar, November 19, 2020

Decisions, Decisions: A Legal Update, Marshall Dennehey webinar, October 28, 2020

HR Webinar Series Part I: Workers' Compensation Basics, Pennsylvania Chamber of Business and Industry, February 13, 2020

Workers' Compensation and Medicare Legal Update, Marshall Dennehey Workers' Compensation Seminar, October 24, 2019

Identifying Fraudulent Workers' Compensation Claims, Marshall Dennehey Workers' Compensation Seminar, October 24, 2019

The Interplay Between Traumatic Brain Injuries and Fraud in Workers' Compensation, Pennsylvania Insurance Fraud Conference, Hershey, Pennsylvania, April 24, 2019

Influence of Pharmaceuticals and Changing Landscape in Workers' Comp Medical Costs, Philly I-Day, Philadelphia, Pennsylvania, April 9, 2019

Workers' Compensation Case Law Update; and Workers' Compensation Fraud, Marshall Dennehey Workers' Compensation Seminar, October 25, 2018

Workers' Compensation Fraud: Don't Forget the Data, Marshall Dennehey Insurance Fraud 360, June 13, 2018

Workers' Compensation Fraud: Don't Ignore the Data! 2018 Pennsylvania Insurance Fraud Conference, Pocono Manor, Pennsylvania, April 13, 2018

Workers' Compensation Fraud: Don't Forget the Data, Philly I-Day, Philadelphia, Pennsylvania, April 12, 2018

Biggest Mistakes Companies Make in Complying with Workers' Compensation, Pennsylvania Chamber of Business and Industry Annual Human Resources Conference, Hershey, Pennsylvania, November 28, 2017

Workers' Compensation Legal Update, Marshall Dennehey Workers' Compensation Seminar, October 19, 2017

If You See Something, Say Something – Detecting Workers' Compensation Fraud, Pennsylvania's 2017 Insurance Fraud Conference, Hershey, Pennsylvania, April 6, 2017

Case Law Update, Marshall Dennehey Workers' Compensation Seminars, October 19 and 27, 2016

Pennsylvania's Workers' Compensation Law: Best Practices for Complying with Benefits, Understanding the Flow of a Workers' Compensation Claim, and Tips to Prevent WC Fraud, PA Chamber of Business and Industry Workers' Compensation Summit, September 30, 2016

Check the Rulebook: Workers' Compensation Legal Update, Marshall Dennehey Workers' Compensation Seminar, October 22, 2015

Unemployment Compensation Roundtable, Pennsylvania Chamber of Commerce, June 2015

Tough Problems in Workers' Compensation 2015, Pennsylvania Bar Institute, Philadelphia, Pennsylvania, April 13, 2015

UC/WC 101 Benefits Roundtable, Pennsylvania Chamber of Business and Industry, King of Prussia, Pennsylvania, March 19, 2015

PEO's effect on Guaranty Fund: Insurance Company Perspective, Fund Perspective and Counsel Perspective, NCIGF 2014 Fall Workshop, Philadelphia, Pennsylvania, October 22, 2014

Case Law and House Bill Update, Marshall Dennehey Workers' Compensation Seminar, October 30, 2014

Social Media and Workers' Compensation, and Handling Unusual WC Situations, Pennsylvania Chamber of Business and Industry Workers' Compensation Summit, Hershey, Pennsylvania, October 1, 2014

Workers' Compensation Medical Fraud and Abuse, CEU Institute, June 25, 2014

Busted! Identifying, Proving And Prosecuting Workers' Compensation Fraud, National Workers' Compensation Insurance ExecuSummit, Uncasville, Connecticut, February 4-5, 2014

Understanding the Most Common Mistakes Made in Workers' Compensation, Pennsylvania Chamber of Business and Industry Annual Human Resources Conference, Hershey, Pennsylvania, December 3, 2013

Tri-State Workers' Compensation Legal Update, Roadmap to Success - Understanding Workers' Compensation, Marshall Dennehey seminar, October 24, 2013

FrankenFraud – The New Employee Monster, Marshall Dennehey Workers' Compensation Seminar, November 30, 2012

Workers' Compensation 101 Roundtable, Pennsylvania Chamber of Business and Industry, Harrisburg, Pennsylvania, June 8, 2012

Unemployment Claims Fraud: Protect Your Organization from Bogus Jobless Claims, Center for Competitive Management, April 19, 2012

Unemployment Compensation Roundtable, Pennsylvania Chamber of Business and Industry, Scranton, Pennsylvania, March 8, 2012; King of Prussia, Pennsylvania, March 16, 2012

The Interplay Between the Pennsylvania Heart and Lung Act and the Pennsylvania Workers' Compensation Act, AmeriHealth Casualty webinar, August 25, 2011

Top Ten Defenses to a Fee Review Action, Chubb Seminar, April 2011; discussion about the problems associated with provider fraud in fee review applications and a 10-point analysis on how to properly defend these cases

Workers' Compensation Primer, Drexel Seminar, March 2011; an analysis on how to defend workers' compensation actions in a university setting

Pennsylvania Claims Handling (monthly seminars in PA, NJ and DE), 2002-present

Defending Pennsylvania Claims, Boston, 2008

Prosecuting Fraud Under New Guides, Texas, 2006

Pennsylvania Workers' Compensation Law and Claims Handling, Michigan, 2001

Case Law Updates to various insurers on monthly basis, 1998-2000

Pennsylvania Forms Seminar, 1997

How to Defend Hearing Loss Cases, 1994

ADA and Workers' Compensation Act, five Pennsylvania cities, 1992

Published Works

"Pennsylvania Workers' Compensation Act and the Student-Athlete: The Ultimate Mismatch," Pennsylvania Lawyer, September/October 2019

"Suicide Squeeze: An Overview of Pa. Workers' Comp and the Pro Athlete," The Legal Intelligencer, Workers' Compensation Supplement, October 30, 2018

"If You See Something, Say Something - The Importance of Identifying and Reporting Workers' Compensation Fraud," CLM Magazine (page 10), August 2017

Pennsylvania Workers' Compensation Guide, Eighth Edition, Pennsylvania Chamber of Business and Industry, contributing author, 2016

"The Treating Physician: A Misnomer in Workers' Comp Litigation," Pennsylvania Law Weekly, August 25, 2015

Insurance Agency Risk Management: E & O Exposures By Line of Business, chapter on workers' compensation, 2014 edition

"Practical Ramifications of Supreme Court Determination Involving Latent Manifestation of Occupational Diseases Under the PA Workers' Compensation Act," CounterPoint, newsletter of the PA Defense Institute, April 2014.

"PEOs: A New Potential for Workers' Comp Fraud? A Close Look at Professional Employer Organizations," National Underwriter Property & Casualty, October 2013

"Fee Review Litigation: An Overview," Pennsylvania Self-Insurers' Association newsletter, May 2011

"Retirement Does Not Mean Retirement When You are Collecting Workers' Compensation Benefits," The Philadelphia Lawyer, Summer 2011

"Ding Dong Kachinski's Dead: Commonwealth Court Declines To Resuscitate," Defense Digest, Vol. 16, No. 3, September 2010

Articles in Defense Digest and the Pennsylvania Self-Insurer's Association's publications
Education
University of Pittsburgh School of Law (J.D., 1991)
University of Pennsylvania (B.A., 1988)
Associations & memberships
Pennsylvania Bar Association
Philadelphia Bar Association
URMIA