Robert J. Aldrich, III
Associate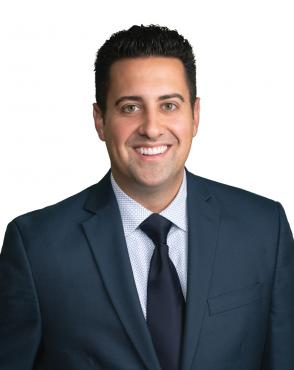 Areas of Practice
Contact Info
(570) 496-4658
Overview

As a member of the Health Care Department, Rob devotes his practice to the defense of medical and dental malpractice, nursing home negligence, and other health care matters. Rob has represented nursing homes, doctors, dentists, oral surgeons, anesthesiologists, physician groups, surgical centers, medical device companies, podiatrists, physician assistants, certified registered nurse practitioners and nurses in a multitude of malpractice actions. Rob also handles professional liability matters, including employment law and school civil rights, trucking defense, premises liability and other general liability defense.

Rob's clients appreciate his deep personal investment in each case. He utilizes his skills as a persuasive writer, efficient litigator and practical thinker to develop effective defense strategies. Rob also has extensive knowledge of the judicial system, enabling him to analyze cases from the court's perspective.

As an active member of the legal community, Rob serves as a board member and director of the Middle District-North section of the Pennsylvania Defense Institute. He is also an active speaker and author on topics including management of health risk and claims, electronic medical records, audit trails and long-term care.

Rob obtained his juris doctor from Western Michigan University Thomas M. Cooley Law School and graduated magna cum laude. His undergraduate education culminated with receipt of a Bachelor of Science degree from Pennsylvania State University. Prior to beginning his career as a litigator, Rob completed judicial clerkships with the Honorable J. Michael Eakin of the Supreme Court of Pennsylvania and the Honorable Margherita Patti Worthington of the Monroe County Court of Common Pleas.
Results

Significant Representative Matters

Obtained a defense verdict in a nursing negligence claim. The plaintiff alleged to have suffered a fall in a hospital bathroom three days post-operatively that re-injured his surgically repaired knees. The nurses denied the patient fell to the ground and testified, consistent with their charting, that the patient lost balance in the bathroom and sat on a commode. There was a significant economic damage claim in that the plaintiff was a young restaurant owner who suffered two distinct orthopedic injuries that required multiple surgeries and additional future care. The jury returned a defense verdict 50 minutes after deliberation began, finding that the nurses were not negligent.

Obtained a defense verdict on behalf a midwife defendant in an alleged failure to properly manage and care for a patient's labor and delivery, resulting in catastrophic injury to her child. Counsel for the minor-plaintiff argued that the pregnancy and labor were high risk and, therefore, it was below the standard of care to use intermittent auscultation (IA) during the second stage of labor. The plaintiff argued that the fetus suffered a catastrophic brain injury during the second stage of labor, resulting in cerebral palsy and daily intractable seizures. The child, six years of age, wheelchair bound and unable to speak or feed himself, will require lifetime supervision and care. The defense argued that the patient's pregnancy remained low risk, and therefore, IA was within the standard of care; that a sentinel event did not occur during the second stage of labor; and that child's brain injury occurred in the days leading up to the hospital admission for labor.
Thought Leadership

Classes/Seminars Taught

A Recurring Nightmare: Department of Health Citations and Their Impact on Corporate Liability and Punitive Damages, Marshall Dennehey Health Care and Health Law Seminar, November 7, 2019

2018 Update: The EMR, Audit Trails and Mobile Devices: How to Narrow Your Professional Liability Exposure, 14th Annual Medical Liability Insurance ExecuSummit, Uncasville, Connecticut, October 17, 2018

The Impact of Department of Health Violations on Corporate Liability, PAHCRM Spring Conference, Wilkes Barre, Pennsylvania, April 13, 2018

Published Works

"The Whole Is NOT Greater Than Its Parts - Third Circuit Applies Component-Level Analysis To Preemption of Hybrid Medical Devices," CounterPoint, April 2018

"Negligent Advice of a Class III Medical Device Sales Rep," The Legal Intelligencer, Medical Malpractice Supplement, April 11, 2017
Admissions
U.S. District Court Middle District of Pennsylvania
2013
Supreme Court of Pennsylvania
2013
Education
Western Michigan University Thomas M. Cooley Law School (J.D., magna cum laude, 2013)
The Pennsylvania State University (B.S., 2009)
Associations & memberships
Pennsylvania Defense Institute, Board Member and Director of Middle District-North