Brigid Q. Alford
Shareholder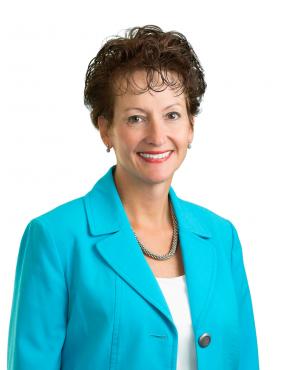 Areas of Practice
Contact Info
(717) 651-3710
Overview

Brigid Alford is a member of the Professional Liability Department and serves on the firm's Board of Directors.  She concentrates her practice in various areas of insurance defense and civil litigation, with a focus in insurance coverage matters and litigation of coverage and bad faith claims involving issues arising from motor vehicle, homeowner, professional liability, commercial general liability and other policies.  She has more than 25 years of experience litigating cases in 50 of Pennsylvania's 67 county courts, in all three of Pennsylvania's federal district courts and before the Pennsylvania Department of Insurance. Brigid's trial resume includes both jury and bench trials in over 10 counties throughout the state, from Pittsburgh to Philadelphia.  She has also argued before Pennsylvania's Superior and Commonwealth Courts, as well as the 3rd Circuit Court of Appeals. Brigid also serves as the Managing attorney of our Camp Hill, PA office.

In 1983, Brigid earned her juris doctor from The Dickinson School of Law. She continues to serve as an adjunct assistant professor with the school's award winning Trial Advocacy Program. She is a 1980 cum laude, Phi Beta Kappa graduate of Allegheny College. 

Brigid is a member of the Pennsylvania Bar Association, where she participates annually in this organization's Young Lawyers Division statewide High School Mock Trial Competition.  She is a member of the Dauphin County and Cumberland County Bar Associations and has been elected a Master of the William J. Lipsitt American Inns of Court. Other professional associations include membership in CLM.

She is a frequent lecturer throughout the state for the Pennsylvania Bar Institute and other groups, speaking on a variety of subjects including insurance coverage, bad faith, civil trial practice and UM/UIM issues.
Results

Significant Representative Matters

Defense verdict for insurer in breach of contract/insurer bad faith action arising from denial of hail damage claim under commercial property policy.

Successfully challenged petition for class certification in "blast-fax" case filed in Philadelphia County Court of Common Pleas.

Prevailed on summary judgment motion in declaratory judgment action filed on behalf of insurer, arguing coverage under CGL policy not triggered by allegations of faulty workmanship.

Defense verdict for racetrack in negligence action filed by driver paralyzed as result of racing accident

Defense verdict for business owner/insured in premises liability action, arguing no notice of defect.

Resolved multi-party, complex declaratory judgment actions in both state and federal courts involving various insurance coverage issues and exclusions.

Prevailed on summary judgment motion for co-defendant in an action arising from a motor vehicle accident that had resulted in the death of a back seat passenger.

Successfully presented motion to sever and bifurcate breach of contract and bad faith claims in Pennsylvania state courts.

Successfully presented motion to have the federal court decline to exercise pendent jurisdiction over a personal injury claim, raised as a cross-claim by the co-defendant in a declaratory judgment action.

Resolved a sexual harassment/intimidation action filed against the defendant-insured in federal court; the original complaint had included a punitive damages claim.

Defense verdict after a jury trial in favor of an insurance company in a breach of contract claim (PIP benefits); the bad faith and UTPCPL claims were dismissed pretrial via summary judgment motion.

Successfully represented insurers in evidentiary hearings before Pennsylvania Department of Insurance on complaints filed directly with DOI by insureds.

Successfully represented an insured at a hearing and argument on a Petition to Open Default Judgment in a case involving a racetrack accident and resultant catastrophic injuries to the driver, including quadriplegia.
Thought Leadership

Classes/Seminars Taught

Good Faith Claims Handling in Pennsylvania, Marshall Dennehey Client Seminar, July 20, 2022

Rancosky/ Bad Faith Update, Marshall Dennehey Insurance Fraud 360 Seminar, Lafayette Hill, PA, June 2018

Keep the Faith: Understanding Insurance Bad Faith in Pennsylvania After 2017, Philadelphia Association of Defense Counsel, February 20, 2018

Key Developments in Pennsylvania UM/UIM Law, Pennsylvania Bar Institute Auto Law Update, Philadelphia and Mechanicsburg, PA, October 2017

Distracted Driving: Texting, Talking & More, Marshall Dennehey Client Seminar, May 2017

How to Get Your Social Media Evidence Admitted – and How to Keep Theirs Out, NBI Seminar, December 2016

SLEO Claims & Coverage 2016, Marshall Dennehey Client Seminar, November, 2016

Pennsylvania UM/UIM Update 2016, PBI 22nd Annual Auto Law Seminar Webinar, October 28, 2016

First Party Issues - Multi-State Bad Faith Perspective, Marshall Dennehey Insurance Fraud 360 Seminar, Lafayette Hill, PA, June, 2016

Pennsylvania Bad Faith Issues, Marshall Dennehey Client Seminar, June 2015

Regular Use Exclusions in Pennsylvania -- Coverage Issues and Practical Applications, Marshall Dennehey Client Seminar, June 2015

Insurance Bad Faith: Pennsylvania Update, Marshall Dennehey Client Seminar, June 2015

UM/UIM & Limited Tort: How to Handle or Defend a Limited Tort Case, Pennsylvania Bar Institute

Pennsylvania UM/UIM Law: 2014 Updates, Marshall Dennehey Client Seminar, December 2014

Annual Auto Law Update, Pennsylvania Bar Institute, November 2014

PIP, UIM & Other First Party Coverage Issues, Marshall Dennehey Insurance Fraud 360, June 2014

When Is a Bad Faith Claim Worth $18 Million?, Dispute Resolution Institute's Personal Injury Potpourri, April 2014

UM/UIM Law in Pennsylvania, Pennsylvania Bar Institute, 2013

Annual Auto Law Update, Pennsylvania Bar Institute, 2013

Insurance Coverage Issues Related to Sexual Molestation Claims, PBI, 2012

Innocent Third party and Contemporary SIU Coverage Issues, Marshall Dennehey Insurance Fraud Perspectives Seminar, Lafayette Hill, PA, June 2012

PL Coverage, Professional Liability Defense Federation, 2011

UM/UIM, Pennsylvania Bar Institute, 2010

Annual Auto Law Update, Pennsylvania Bar Institute, 2010

Trial Tactics, Tips & Techniques, Pennsylvania Bar Institute, 1999; 2009

Annual Auto Law Update, Pennsylvania Bar Institute, 2007

Trial Preparation: The 100-Day Countdown, Pennsylvania Bar Institute, 2003

Adjunct Assistant Professor, Trial Advocacy Program, The Dickinson School of Law

Presentations to clients on developments in Pennsylvania UM/UIM law, bad faith and various coverage issues

Published Works

"Practical Applications of Social Media In and Out of the Courtroom," The Pennsylvania Bar Association Quarterly, April 2017

"Less is More: Pennsylvania Supreme Court Confirms Less Stringent Rules Apply to Lower UM/UIM Limits Than to Waive UM/UIM Coverage," Defense Digest, 2011-06, Vol. 17, No. 2

"Oh Tannenbaum, Oh Tannenbaum! Early Christmas Gift To UM/UIM Carriers From Pennsylvania Supreme Court," Defense Digest, Vol. 16, No. 3, September 2010 

"UM/UIM Coverage in Pennsylvania: Establishing 'Occupancy' of Vehicle as Basis for Qualifying as an Insured," Defense Digest, Vol. 15, No. 2, June 2009 
Admissions
U.S. District Court Middle District of Pennsylvania
1984
U.S. Court of Appeals 3rd Circuit
1992
U.S. District Court Eastern District of Pennsylvania
2007
U.S. District Court Western District of Pennsylvania
2009
Education
Dickinson School of Law, Penn State University (J.D., 1983)
Allegheny College (B.A., cum laude, 1980)
Honors & awards
2015 Woman of Influence, Central Penn Business Journal
The Best Lawyers in America© - Insurance Law, Litigation - Insurance
2023
Associations & memberships
Claims & Litigation Management Alliance, Member
Dauphin County Bar Association - Panel Chair, Board of Arbitration
The Honorable William W. Lipsitt American Inns of Court, Master
Pennsylvania Bar Association
Pennsylvania Defense Institute - Co-Chair, Bad Faith Committee