Thomas A. Brophy
Senior Counsel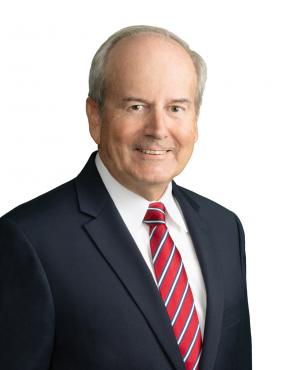 Contact Info
(215) 575-2748
Overview

Tom Brophy is the President Emeritus of Marshall Dennehey Warner Coleman & Goggin having served as President and CEO from 2005 to 2017.

With more than 35 years of experience in the legal profession, Tom remains constantly aware of changes in the business and legal community and continues to counsel and guide clients through this ever-changing landscape.

Over the years, Tom has defended hundreds of matters on behalf of corporations, individuals and insurance companies involving a wide range of legal issues including product liability, premises liability, liquor liability and health care liability matters. Tom has lectured extensively throughout the state on the practice of civil defense litigation.

Tom is a former chair of the Federal Practice Committee of the Montgomery Bar Association. He is actively involved with the Philadelphia Association of Defense Counsel, the Pennsylvania Defense Institute, and the Defense Research Institute. He served as a member of the Board of Directors of the Insurance Society of Philadelphia for six years. Tom has served as a Trustee of the Philadelphia Bar Foundation, the charitable arm of the Philadelphia Bar Association for nine years.

Tom served as the President of the Philadelphia Bar Foundation in 2017 and 2018 and continues to serve as a Trustee of the Bar Foundation and PBF Holdings. PBF Holdings is seeking to build an Equal Justice Center in Philadelphia to house the various service organizations that serve the poor, the disenfranchised, and those unable to afford legal services. Tom also served a two year term as the President of The Lawyers' Club of Philadelphia in 2016 and 2017
Results

Significant Representative Matters

Tried one of the first long-term care cases litigated in the City of Philadelphia. Successfully represented the defendant, an owner and operator of a long-term care facility. The plaintiff was a resident of the facility and had been assaulted by a care provider who was convicted of aggravated assault as a result of his mishandling of the plaintiff. Claims were made for compensatory and punitive damages against the long-term care facility for the actions of its employee and for its failure to properly screen the employee who assaulted the plaintiff. The jury returned a defense verdict on behalf of the long-term care facility.

Successfully represented an insurance broker in an alleged insurance brokerage malpractice matter. Plaintiff sued the insurance brokerage alleging that the brokerage had misrepresented the nature of the insurance coverage available to the land owner resulting in an economic loss of between $5 million and $8 million. The case was complicated by the fact that the insurance broker whom Tom represented was suffering from Alzheimer's disease and was incompetent to testify at the time of trial.

Defended an underinsured motorist case brought by a plastic surgeon. The plastic surgeon, who had been rear ended in a motor vehicle accident, claimed that as a result of the injuries sustained in the accident, he had developed a radiculopathy radiating into his right dominant arm precluding him from engaging in the practice of plastic surgery. The surgeon had $5 million in underinsured motorist coverage. The arbitrators made an award of $850,000 in favor of the plastic surgeon in a case that was reserved for $5 million.

Successfully represented a psychologist and in-patient treatment facility in a case in which it was alleged that patient was inaccurately evaluated and inappropriately discharged. The patient committed suicide within 10 days after his discharge from the facility by the psychologist. Jury found in favor of defense concluding that the decision to discharge the decedent was appropriate given his presentation on the date of the release.

Defended the manufacturer of a pediculicide (lice treatment) shampoo in a case in which it was alleged that the shampoo caused second degree burns to a 3-year-old child over 60 percent of her body, causing her death. At the time the case was filed, the county coroner and the decedent's treating physicians had opined that her death was caused by an allergic reaction resulting in tissue destruction that manifested itself in the form of second degree burns. The defense assembled a team of experts to establish that the child's death was caused by hot water scalding and not by a chemical reaction to the shampoo. The pediculicide had been manufactured and distributed pursuant to over-the-counter regulations promulgated by the Food and Drug Administration.
Thought Leadership

Published Works

"Sailing to Distant Shores," Philadelphia Bar Reporter, January 2017

"Toxic Torts: Workable Defenses Available to the Corporate Defendant," (co-author, Robert Goggin) 28 Villanova L. R. 1208, 1993

"How To Evaluate And Settle Personal Injury Claims," Professional Education System, Inc, 1989

"Cross Examination of Plaintiff's Life Care Expert," Product Liability Council Deskbook, 1999, 2001
Admissions
U.S. Court of Appeals 3rd Circuit
1984
U.S. District Court Eastern District of Pennsylvania
1984
U.S. District Court Middle District of Pennsylvania
2000
Education
Temple University School of Law (J.D., 1982)
University of Dayton (B.A., cum laude, 1974)
Honors & awards
2019 Lifetime Achievement Award, The Legal Intelligencer
2019 William J. O'Brien Distinguished Service Award, Philadelphia Association of Defense Counsel
2019 Lifetime Achievement Award, Pennsylvania Defense Institute
AV® Preeminent™ by Martindale-Hubbell®
2001-Present
Attorneys Listed by Best Lawyers in America
- Medical Malpractice Law-Defendants, Personal Injury Litigation-Defendants
2001-Present
Pennsylvania Super Lawyer
2005-2020
Associations & memberships
American Board of Trial Advocates, Diplomate, 1997 - Present
PBF Holdings, President 2018
Philadelphia Bar Foundation, President, 2017 - 2018
Philadelphia Bar Foundation, Vice President, 2015 - 2016
Philadelphia Bar Foundation, Member of Board of Trustees, 2009 - 2016
Philadelphia Bar Association, 1982-1986 and 2000 - Present
The Lawyers' Club of Philadelphia, Member 2000 - Present, Trustee 2011 - 2015, President, 2016 - 2017
Defense Research Institute, 1988 - Present
Pennsylvania Defense Institute, 1985 - Present
Pennsylvania Bar Association, 1982 - Present
Philadelphia Bar Association, Co-Chair, Law Practice Management Committee, 2007, 2008
Products Liability Advisory Council, 1988 - 2010
Insurance Society of Philadelphia, Member of Board of Directors, 2006 - 2010
Montgomery County Bar Association 1986 - 2001
Pennsylvania Civil Jury Trial Instructions Committee, 2018-2019