Stephen A. Ryan
Chair, Birth and Catastrophic Injury Litigation Practice Group
Chair, Medical Device and Pharmaceutical Liability Practice Group
Of Counsel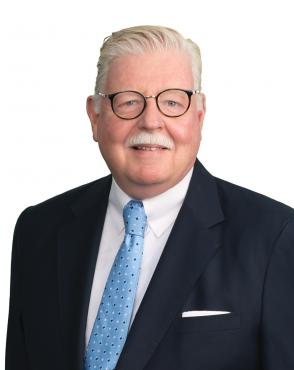 Contact Info
(610) 354-8254
Overview

As of a member of the Health Care Department, Steve serves as chair of the Medical Device and Pharmaceutical Practice Group and the Birth and Catastrophic Injury Litigation Practice Group. He has 40 years of medical malpractice litigation experience and has tried more than 220 major medical malpractice cases to verdict and participated in many arbitrations and mediations. In his first year with Marshall Dennehey, Steve picked 23 juries and tried 13 medical malpractice cases to verdict, all but one for the defense.

In 2002, The United States Supreme Court upheld Steve's victory in Pappas v. U.S. Healthcare, 724 A.2d 889 (Pa. 1998) (Pappas I) 768 A.2d 1069 (Pa. 2001) (Pappas II), a landmark case involving liability of managed care organizations for medical decisions.

Steve defends drug and medical device manufacturers and monitors these cases and all birth injury defense cases firmwide. Steve also participates in marketing activities and in-house educational seminars, writes articles and speaks on recent developments in the law.

After serving as a law clerk to the Honorable Joseph L. McGlynn, Jr., in the U.S. District Court for the Eastern District of Pennsylvania following graduation, Steve joined a small defense firm where he focused on medical malpractice defense litigation. He helped grow the firm to more than 100 lawyers and, over the next 14 years, became a member of the firm's executive committee. During his tenure at that firm, he handled long-term care litigation, medical device and pharmaceutical liability litigation, professional liability insurance coverage, medical staff and peer review matters, and bio-ethical issues. His malpractice defense caseload evolved into catastrophic injury cases (obstetrical, neonatal, neurosurgical, neurological and anesthesia complications, etc.), and he handled celebrated cases involving surgical mix-ups, crossed oxygen and nitrous oxide ER lines, a baby stolen from a hospital and "Lazarus Syndrome." During this time, Steve developed his skills defending cases involving neurologically impaired infants.

In 1992, Steve established his own boutique firm in suburban Philadelphia and then brought his practice to Marshall Dennehey in 1997.

Steve has served as local and national counsel in mass tort drug litigation, including PPA (Phenylpropanolamine), hormone therapy and the Ephedra multi-district litigation. He serves as regional birth and catastrophic injury panel counsel for a major insurer. Steve has completed coursework in basic and advanced mediation techniques, was a part of the Drexel University College of Medicine's inaugural panel of mediators and serves regularly as a mediator in medical malpractice cases.
Results

Significant Representative Matters

Successfully defended hospital in case involving patient who coded in E.D., was resuscitated for 32 minutes with no pulse or respirations, was pronounced dead, and a half an hour later, a morgue tech found patient had come back to life and was breathing.

Defended defunct manufacturer of Ephedra containing dietary supplement (whose only asset was a multi-million dollar insurance policy) in a trial in Gainesville, Florida, on a cause brought by a severely disabled young man who suffered a massive stroke, allegedly due to ingestion of our product. Primary defense was on causation, but obtained a no negligence finding as well.

Defended hospital in 17 death cases arising from the crossing of nitrous oxide and oxygen lines in a new emergency department, whereby oxygen outlets delivered nitrous oxide for six months. Worked for two years to create a consensus among multiple defendants as to case values and allocation. Managed to settle all 17 without any discovery being conducted by Plaintiffs, for a total of $2 million, of which hospital paid 31 percent.

Defended hospital in case involving late night vaginal delivery by a resident of a breech presentation of a presumably non­viable gestation, where attending physician did not come in to deliver baby, and child was born alive and survived with global retardation, blindness, spastic quadriplegia and seizure disorder. Parents rejected multi-million dollar offer, and jury returned defense verdict after two days of deliberations.

Defended hospital in case alleging failure to transfer to appropriate tertiary facility for rapid decompression of epidural spinal abscess. HMO had refused to authorize transfer to regional spinal cord injury center and, when joined by hospital as additional defendant, invoked ERISA preemption to dismiss joinder at trial. Settled case for hospital, preserving appellate issue, and obtained reversal in Pennsylvania Superior Court. Pennsylvania Supreme Court affirmed and HMO petitioned for Certiorari. Met with U.S. Justice and Labor Department appellate litigators, persuaded them to file Amicus brief in support of our position, and briefed the U.S. Supreme Court in opposition to the petition. U.S. Supreme Court denied Certiorari, letting stand the first state case in the country to recognize that ERISA does not protect "benefit determinations" which amount to negligent medical care decisions.

Defense verdict in Philadelphia case involving 49-year-old man whose cerebral aneurysm was clipped, and the clip slipped, leaving him severely brain damaged and living in a group home with a normal life expectancy and over $10,000 per month in expenses. Interventional cerebrovascular neurosurgeon was sole defendant and his excess carrier was insolvent. Attempts to negotiate a high-low agreement were unsuccessful. Case nominated for Defense Research Institute's "Defense Verdict of the Year."

Defended manufacturer of dietary supplement containing Ephedra in over 60 state and federal cases nationwide involving stroke, myocardial infarction, or sudden cardiac death. Worked with world class medical experts to develop alternate causation theories and presented the Defense Counsel Committee's cardiac electrophysiology expert at the Ephedra MDL Daubert hearing in U.S. District Court, S.D.N.Y. Succeeded in precluding plaintiffs' generic causation experts from opining that Ephedra lengthens the Q-T interval or exacerbates "Long Q-T Syndrome," thereby causing sudden cardiac death.

Representative Cases

Montgomery Hospital v. CAT Fund

Pappas v. U.S. Healthcare

Rigmaiden v. Metropolitan Hospital, et al.
Thought Leadership

Classes/Seminars Taught

Evaluating the Pros and Cons of Mother and Child Genetic Testing – Defense and Plaintiff Perspective, Advanced Forum on Obstetric Malpractice Claims, Philadelphia, PA, June 27, 2019

What is Your Case Worth?, Marshall Dennehey Health Care and Health Law Seminar, November 9, 2017

Instructor, Delay in Diagnosis of Cancer

Defending the Doctor at Deposition

Recent Developments in Medical Malpractice

Mini-Trial of an HMO Liability Case, ASHRM 2000 New Orleans, Louisiana

Pennsylvania Trial Lawyers Association - Medical Malpractice Trial Techniques Demonstration

"Learn from the Masters" Series: Winning Openings and Closings and Winning Direct and Cross, Pennsylvania Bar Institute

Medical Professional Liability Coverage and Law, Insurance Society of Philadelphia

Open Source Proposal for Drugs will Suppress Invention, Temple Law School National Symposium, 2006

Pharmacist Liability, National HealthCare Exposition, Las Vegas, NV, 2006

Interactive Long-Term Care Mini-Trial, ASHRM 2006, San Diego, CA

Co-presented with Merck's Vioxx Counsel at national summit on Experts and Scientific Evidence in Drug and Medical Device Cases, July 2008

Published Works

"Managing the Hospital-Based High Visibility Catastrophic Incident," Pennsylvania Society for Healthcare Risk Management Newsletter

"Pitfalls in Medical Record Documentation," RT Image, Society of Radiologic Technologists magazine

"Claim Based on Doctor's Alleged Guarantee of Result Must Be In Writing," Defense Digest, 1999

"Doctor's Alleged Guarantee of Result Must Be In Writing: Flora v. Moses Provides Sound Reasoning," Pennsylvania Law Weekly, 1999

"Pennsylvania's 'Error In Judgment' Jury Instruction Upheld," Defense Digest, 2000

"Liability of Managed Care Organizations for Negligent Decisions Causing Harm: Will U.S. Supreme Court Speak or Let Congress Decide?," The Specialist, newsletter of the Chartered Property Casualty Underwriters Society, 2001

"ERISA Preemption of Medical Negligence Claims Against HMO's: Perceived Conflict Between Pennsylvania Supreme Court and 3rd Circuit Paves Way for Showdown in U.S. Supreme Court," Journal of Healthcare Risk Management, 2001

"Medical Devices and Double Secret Probation," Defense Digest, 2006

Pro Bono Activities

Captain, Team Marshall Dennehey (American Cancer Society Bikeathon Team)
Admissions
U.S. District Court Eastern District of Pennsylvania
1975
U.S. Court of Appeals 3rd Circuit
1982
Education
Villanova University School of Law (J.D., 1975)
Villanova University (A.B., 1972)
Honors & awards
AV® Preeminent™ by Martindale-Hubbell®
The Best Lawyers in America©, Philadelphia Medical Malpractice-Defendants "Lawyer of the Year" 2013, 2017, 2019; Medical Malpractice Law; Personal Injury Litigation – Defendants
2009-present
College of Physicians of Philadelphia, Fellow, November 2019
Pennsylvania Super Lawyer
2005-2009, 2019-2021
Associations & memberships
American Society for Healthcare Risk Management
Defense Research Institute
Pennsylvania Bar Association Philadelphia Bar Association; Chairman, Medico-Legal Committee, 1985