Raphael M. Duran
Shareholder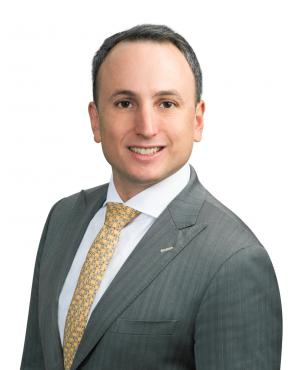 Areas of Practice
Contact Info
(215) 575-2710
Overview

Raphael focuses his practice exclusively on workers' compensation litigation. He has represented some of the largest employers in the Philadelphia area, including those in the retail, construction, transportation, health care and food processing industries. Raphael also has extensive experience working with self insured and high retention clients.

Raphael is cognizant of a client's bottom line and works closely with them to develop the best possible risk management strategy. He partners with employer and insurance representatives during the infancy phases of a claim, an approach that has resulted in zero dollars in exposure on a number of occasions.

Raphael graduated from the University of Pittsburgh with a B.A. in Political Science and Communications. He received his juris doctor from Drexel University Kline School of Law in 2010 with honors in the Business and Entrepreneurship Concentration Program. Raphael was a member of the Moot Court Board and represented Drexel University in the University of San Diego Criminal Law Moot Court Competition.
Thought Leadership

Classes/Seminars Taught

An Educational Update on Social Media, co-presenter, Greater Philadelphia Executive Claims Council, May 21, 2020

Hidden Gaps in Insurance Coverage – Pitfalls and Landmines of Risk Management, Greater Philadelphia Executive Claims Council, February 21, 2019

Workers' Compensation Fraud, Marshall Dennehey Workers' Compensation Seminar, October 25, 2018

Know Your Rights, Drexel University's Black Graduate Student Union, February 23, 2018

Opioid Addiction in the Workers Compensation Arena, Greater Philadelphia Executive Claims Council, February 15, 2018

Defense Counsel Wish List, Marshall Dennehey Workers' Compensation Seminar, October 27, 2016

An Overview of Pennsylvania Workers' Compensation, Nationwide Insurance Company, July 2015

Dial "I" For IRE – An Overview of Impairment Rating Evaluations in Pennsylvania, Marshall Dennehey Workers' Compensation Seminar, Philadelphia, PA, November 30, 2012

The Relationship Between the Heart and Lung Act and the PA Workers' Compensation Act, AmeriHealth Casualty Services Inc., 2011

Published Works

"Litigation: Deposing Adjusters Without a Basis," Pennsylvania Law Weekly, April 19, 2016

"The Disregarded Diagnosis--How to Litigate the Termination Petition Without an Unreasonable Contest," Defense Digest, Vol. 19, No. 4, December 2013, co-author

"Compelling Social Media Issues in Litigation," Defense Digest, Vol. 19, No. 1, March 2013, co-author
Education
Drexel University Kline School of Law (J.D., 2010)
University of Pittsburgh (B.A., 2002)
Honors & awards
Pennsylvania Super Lawyer Rising Star
2017-2020
Associations & memberships
Greater Philadelphia Executive Claims Council, Board of Directors (2018)