Mary Kate McGrath
Co-Chair, Telehealth and Telemedicine Practice Group
Shareholder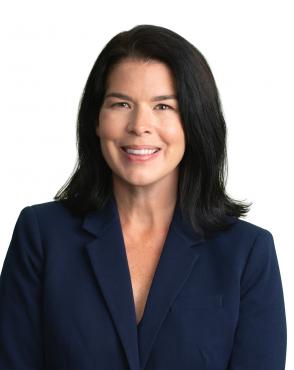 Contact Info
(215) 575-2863
Overview

Mary Kate is a member of the Health Care Department at Marshall Dennehey, and serves as co-chair of the Telehealth and Telemedicine Practice Group. She has extensive experience in the defense of health care providers, hospitals, health systems, rehabilitation centers and skilled nursing facilities from the onset of a client's involvement in a case through the appellate level. She also handles compliance matters, including defending and advising health care clients regarding government payment programs, electronic discovery and privacy matters. Mary Kate has been called upon by the media to provide insight and commentary on significant legal issues related to health care.

Mary Kate has obtained trial defense verdicts in the Philadelphia County Court of Common Pleas. Her representative cases include the defense of a physical therapist and a local hospital in a matter involving alleged permanent injuries sustained during treatment, and the defense of an emergency medicine physician in a wrongful death claim.

Prior to beginning her legal career, Mary Kate was a professional actor who worked on Broadway, off-Broadway and in regional theaters across the country. She was nominated for Barrymore Awards for performances at Philadelphia's Walnut Street Theater and Arden Theater Company. Following graduation from Brooklyn Law School in 2001, Mary Kate continued to perform nationally in theatrical productions and concerts before seeking admission to the Pennsylvania bar in 2003. Click here to see Mary Kate join with fellow alums from Northwestern University in singing "To The Memories" from NU's historic Waa-Mu Show. 

Mary Kate is an active member of her community, supporting several local organizations. She serves as the Solicitor for Central Behavioral Health, and she volunteers with Commonwealth Youthchoirs, as a Group Manager for the Keystone State Boychoir. She has served as a pro bono child advocate for the Montgomery Child Advocacy Project. She serves as a cantor and Sunday Story teacher for Our Mother of Consolation Parish, and volunteers for Norwood Fontbonne Academy. In 2011, Mary Kate was involved with the Chestnut Hill Business Association, serving as the Chair of the Steering Committee for the First Annual Harry Potter Weekend in Chestnut Hill. In addition, since the beginning of the COVID-19 pandemic, Mary Kate and her family have volunteered with Kids to Kids, presenting a weekly Disney-themed Sing Along via Zoom.
Results
Thought Leadership

Classes/Seminars Taught

Telehealth Providers and Controlled Substances: Navigating the Challenges of Telehealth Prescribing, Strafford webinar, August 10, 2022

Taking the Telemedicine Time-Out, Philadelphia Area Society of Healthcare Risk Management (PASHRM) webinar, May 13, 2022

Telemedicine Takeaways for 2022, Marshall Dennehey Trends in Health Care and Health Law Seminar, May 5, 2022

Staying Ahead of the Curve with Telehealth and Risk Mitigation: Navigating Legal Pitfalls in a Rapidly Expanding Industry, webinar, November 4, 2021

Charting the Course of Telehealth in the Post-COVID Landscape, ASHRM Webinar Series, April 27, 2021

Telehealth Emerging Legal and Regulatory Issues: Adopting and Implementing Innovative Solutions, Strafford webinar, November 5, 2020

Telehealth Update: Information and Best Practices to Protect Patients and Clinicians, webinar for Pennsylvania Association for Healthcare Risk Management 2020 Annual Fall Conference, September 11, 2020

Telehealth and Documentation in the Time of COVID-19: Information and Best Practices to Protect Patients and Clinicians webinar, April 23 and May 14, 2020 

Telehealth Lightning Round, Marshall Dennehey Health Care and Health Law Seminar, November 7, 2019

Trends in Telehealth and Pennsylvania Medical Malpractice Litigation, Podiatric Insurance Company of America at Temple University School of Podiatric Medicine, August 23, 2019

Telehealth: Old Dogs, New Tricks?, TeamHealth 25th Annual Defense Counsel Summit, March 23, 2018

Quality Monitoring with "CPR" – Coding, Payback and Reporting to the OIG, Pennsylvania Health Care Association Annual Convention and Trade Show, September 27, 2016

Published Works

Legal Updates for Health Law, Editor, 2015-present

"Navigating the Benevolent Gesture Liability Act," The Legal Intelligencer, March 18, 2014

Case Law Alerts, regular contributor, 2013-2018

Media Commentary

"PA Justices Could Shake Up Medical Peer Review Protections," Law360, February 20, 2020

"Patients Win Big as Pa. Justices Nix Med Mal Suit Time Limit," Law 360, November 13, 2019

"How Pa. High Court Ruling Makes Life Easier for Corp. Clients," Law360, July 1, 2019
Education
Brooklyn Law School (J.D., 2001)
Northwestern University (B.M., 1994)
Honors & awards
Pennsylvania Super Lawyers Rising Star
2010-2013
Associations & memberships
Actors Equity Association
Central Behavioral Health, Solicitor (2015-present)
Philadelphia Area Society of Healthcare Risk Management