Jessica L. Tyler
Shareholder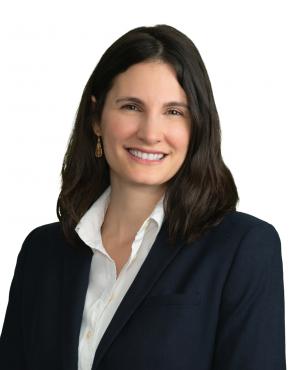 Contact Info
(302) 552-4370
Overview

Jessica is a member of the firm's Casualty Department where she focuses her practice on general liability, automobile liability, premises liability, professional liability, and construction defect cases. Her cases involve the defense of large companies, small local businesses, and individuals. Jessica has successfully obtained dismissals for her clients as well as favorable settlements. She also litigated a potential $2 million exposure case through discovery and trial that resulted in a defense verdict at trial. In that case, Plaintiff argued negligence against the employee-driver and vicarious liability against the employer-company. The jury found that the driver was not negligent. In one premises liability case, she secured a settlement for less than one-third of the Plaintiff's approximate $350,000 in special damages as a result of investigation work and the development of key defenses.

Jessica is also experienced in defending toxic tort actions and has taken several depositions around the country. In her toxic tort practice, Jessica has obtained summary judgment in cases with six figure demands. In each of her practice areas, Jessica identifies opportunities for discovery, investigation, and dispositive motions so that her clients are positioned for a successful outcome.

As part of her practice, Jessica handles cases in the firm's Fraud/Special Investigative Practice Group primarily dealing with evaluating medical provider fraud and fraudulent claims on the part of the clients' insureds. She also handles PIP disputes throughout the state of Delaware on behalf of our clients.

Prior to joining the firm, Jessica served as a judicial law clerk to the Honorable Mark D. Buckworth and to the Honorable Jay H. Conner in Family Court of the State of Delaware. During her clerkship, she drafted opinions of the Court on several issues, including custody, divorce/ancillary matters, Petitions for Specific Performance, and appeals.

Jessica graduated cum laude from Widener University School of Law in 2010 where she received her juris doctor. She was also honored with a Certificate of Achievement in Constitutional Law II and Domestic Violence Law. During law school, Jessica worked for the Delaware Civil Clinic, representing victims of domestic violence in Protection from Abuse and custody proceedings. She also worked for the Camden County Prosecutor's Office where she represented the State of New Jersey in bench trials, Motions to Reduce Bail, and suppression of evidence issues.

Prior to that, Jessica mediated cases between businesses and consumers as a legal intern with the Attorney General's Office in Philadelphia.

Outside of her legal practice, Jessica enjoys spending time traveling, hiking, and cooking.
Results

Significant Representative Matters

Obtained judgment in Delaware Superior Court on the pleadings on behalf of her client which dismissed all of Plaintiffs' claims before any discovery occurred. Plaintiffs appealed and the Delaware Supreme Court affirmed the trial court's decision on January 15, 2016. In this case, the plaintiff signed a gym membership agreement upon joining the facility which included a Release of Liability for all claims including those arising from the alleged negligence of Defendant. Years later, the plaintiff filed suit alleging he was injured at the gym due to Defendant's negligence. On the basis of the Release of Liability he signed, Jessica filed a Motion for Judgment on the Pleadings on behalf of her client. The Superior Court granted it, finding that the Release was clear, not unconscionable, and not against public policy. The Delaware Supreme Court agreed and affirmed.

Handled a case through discovery and assisted with the jury trial which resulted in a defense verdict in a claim for personal injury arising out of a motor vehicle accident. Plaintiff, a sleeping passenger in a car, claimed that his facial fractures, emergency tracheotomy, and eight day hospital stay that amounted to a sum of $362,000 in medical bills were caused by our truck driver's negligence. Through the use of medical experts, the defense was able to prove the plaintiff's medical bills were unreasonable. One of our witnesses, a state police officer, was able to testify as to the cause and nature of the accident in support of the defense. Under Delaware joint and several liability doctrine, plaintiff only sought a 1% finding of liability against our client as the driver of plaintiff's vehicle had only a $25,000 policy. Upon bifurcating the trial, a jury determined that our tractor trailer was not a cause of the accident and that the testimony of the co-defendant driver of plaintiff's vehicle was not credible.

Obtained summary judgment for two asbestos matters, both with a demand of $500,000.

Obtained summary judgment for an asbestos matter in which the demand was $200,000.

Drafted and argued a motion to dismiss in a PIP suit, resulting in the liability decreasing from approximately $25,000 to $3,300.

Obtained voluntary dismissal for a company in an auto accident case on the basis of lack of agency relationship with driver involved.

Won a motion to dismiss all claims against a sole proprietor in the client's individual capacity on the basis that no facts existed to pierce the corporate veil.

Obtained defense verdict in PIP arbitration matter by presenting argument and supporting documentation to the panel that Plaintiff's treatment hindered her recovery.
Thought Leadership

Published Works

"A Win for the Basic Freedom to Contract," Defense Digest, June 2021, Vol. 27, No. 3

"Waive Hello! Waivers of Liability Are Here to Stay, But Maybe Not as to Recklessness," Defense Digest, Vol. 25, No. 3, September 2019
Education
Widener University School of Law (J.D., cum laude, 2010)
Arcadia University (B.A., summa cum laude, 2007)
Associations & memberships
Delaware State Bar Association
Defense Counsel of Delaware