Jay A. Hamad
Co-Chair, Maritime Litigation Practice Group
Shareholder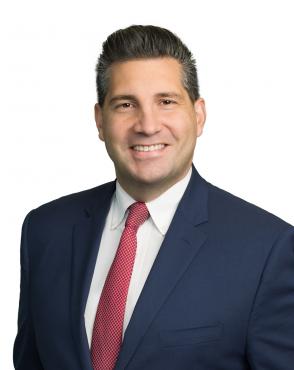 Contact Info
(212) 376-6424
Overview

Jay's practice includes all manner of construction, New York Labor Law, admiralty, maritime and general liability. Jay represents construction managers, general contractors, sub-contractors and property owners in suits brought against them in construction defect claims, construction accidents, issues of code violations, and building and design-related deficiencies. As co-chair of the firm's Maritime Litigation Practice Group, Jay also defends clients in maritime law claims involving the Jones Act, Longshore and Harbor Workers Act, and complex medical malpractice matters. He has served as lead counsel in jury trials and binding arbitrations which have yielded defense verdicts and positive outcomes for his clients.

He has represented clients ranging from multinational corporations to small family owned businesses in state and federal district courts in a wide variety of marine, commercial, casualty and complex medical malpractice litigation. He has litigated a significant number of claims involving complex medical issues such as Chiari I Malformation and Preimplantation Genetic Diagnosis

Jay has routinely retained highly-qualified experts in multiple disciplines in order to defend sophisticated matters on a variety of levels, thus contributing to defense verdicts and settlements far below the plaintiffs' monetary demands.

After serving as a law clerk to the Honorable Bryan D. Garruto, Jay joined the law firm of McDonough, Korn, Eichhorn, & Schorr, where he concentrated his practice on defense of physicians in professional liability matters.
Results

Significant Representative Matters

Successfully obtained summary judgment dismissing all claims against our client in a marine construction NY Labor Law case pending in Supreme Court Rockland County. The case involved bodily injuries sustained to an employee of our client which was a sub-subcontractor at the site of the new Mario Cuomo Bridge. The property owner, general contractor and the subcontractor each cross-claimed and/or third-partied our client into the case seeking contractual and common law indemnity and contribution pursuant to the terms and conditions of the various contracts.  We argued and the Court agreed, since there was no finding of negligence against our client causing the injuries sustained to plaintiff, the indemnification clauses were not implicated. The Court found that there was no evidence demonstrated that our client caused in whole or in part the injuries plaintiff sustained. The plaintiff and general contractor made  motions to reargue which  were both denied. The parties also filed appeals which are currently pending in the Appellate Division.

Served as lead trial counsel in a medical malpractice matter in which the plaintiff alleged multiple deviations from the standard of care against a defendant surgeon. The alleged deviations included a failure to obtain and review records from an earlier procedure prior to subjecting the patient to the same surgery several years later and a failure to order the recognized standard testing (ERCP, MRCP) prior to undertaking the second procedure. Within minutes of the commencement of deliberations, the jury returned a unanimous defense verdict (8-0).

Obtained a dismissal of all claims in a premises liability matter on behalf of his client, a security firm. The plaintiff sustained significant injuries, was required to undergo multiple surgeries and was deemed permanently disabled. The plaintiff sought over $500,000 in past medical expenses and a seven-figure lost wages and future medical expenses claim. The plaintiff and the co-defendants asserted cross claims against Jay's client and undertook significant efforts to obtain contribution from his client towards settlement of the claim. During paper discovery and depositions, Jay was able to expose evidentiary lapses in the theory of liability against his client. Jay capitalized on the success in the discovery process to move for dismissal of all claims and cross claims in motions in limine based upon the multiple evidentiary lapses.

Obtained decision from Office of the Attorney General and the Board of Medical Examiners which denied a patient's request to institute disciplinary action against Jay's client, a physician and partner of a large practice group. A patient complaint was filed with the Office of the Attorney General and the Board of Medical Examiners accusing Jay's client of violations and seeking potential suspension and revocation of his medical license. Jay crafted a strategy geared towards obtaining a determination form the Board of Medical Examiners that would deny the complaint's request for the initiation of formal disciplinary action while limiting any potential damage to his client's defense in the event of subsequent civil litigation. Jay represented his client during a hearing with the Office of the Attorney General and the Board of Medical Examiners. After the hearing, the board rendered a decision denying the complaint's request to institute formal disciplinary action.

Served as lead counsel in a binding arbitration proceeding of a commercial contract litigation in which the plaintiff, a regional construction firm, alleged that our client, a manufacturer of industrial chemicals, should be liable for losses stemming from the theft of industrial equipment that was purchased from and stored by our client. While the plaintiff also sued the subsequent owner of the facility, Jay's client was the primary target of the litigation. The parties agreed to a binding arbitration. After opening statement and examination and cross examination of witnesses from the various parties, the co-defendant settled. Jay and his client refused to settle and completed the mandatory arbitration. After closing statements, the arbitrator awarded Jay's client a no cause.

Served as lead trial counsel and obtained payment for his client, small medical practice group, from a statewide property developer who refused to abide by the terms of an agreement with his client. Jay was retained to assist a small medical practice group in obtaining damages as a result of the developer's failure to comply with contractual responsibilities. After attempting to dispose of the issue amicably, Jay initiated litigation for damages as a result of breach of contract. Jay expedited the discovery process and served as lead trial counsel. At trial, Jay's client was awarded payment under the terms of the contract.

Obtained a dismissal on behalf of our client in a slip and fall matter. A Third-Party Plaintiff, tenant, brought a claim against our client, co-tenant/employer of plaintiff, for common law indemnity, contribution and contractual indemnity for an underlying incident where our employer sustained injuries due to a slip and fall accident within the building stairwell. Upon review of the underlying contract between Third-Party Plaintiff and landlord, which the contractual indemnification claim was based upon, we filed a motion for summary judgment arguing that there was no contractual privity between our client and Third-Party Plaintiff, and that claims for common law indemnification and contribution were barred by New York's Workers' Compensation law. We also sought sanctions and fees pursuant to New York CPLR section 8303-a for maintaining a frivolous lawsuit. On the date of our oral argument, Third-Party Plaintiff agreed to execute the pending stipulation of discontinuance dismissing all claims against our client with prejudice.

Obtained summary judgment when the Plaintiff brought a claim in the County of Nassau against the Landowner/Tenant (our client) for injuries sustained due to a trip and fall over a raised sidewalk condition abutting our client's premises.  Under New York law, an abutting owner or lessee will be liable to a pedestrian injured by a dangerous condition on a public sidewalk only when the owner or lessee either created the condition or caused the condition to occur because of a special use, or when a statute or ordinance places an obligation to maintain the sidewalk on the owner or the lessee AND expressly makes the owner or the lessee liable for injuries caused by a breach of that duty. Our motion for summary judgment argued that our client neither caused the condition to occur (as evidenced by a tree well immediately adjacent to the alleged condition) and that controlling local law did not expressly make landowners liable for failing to maintain the sidewalk. Ultimately, the court granted our motion, citing numerous arguments included in our motion, thereby dismissing plaintiff's claims against our client and granting our cross-claims for common law indemnity and contribution against co-Defendant.

Obtained a dismissal on behalf our client in a slip in fall matter. Plaintiff, a minor whose interest was represented by his mother, brought a claim against our client, a Contractor, for injuries sustained due to a slip and fall in a school gymnasium. Upon receipt of the Complaint, we noticed Plaintiff did not adhere to the strict condition precedent of serving a Notice of Claim pursuant to New York General Municipal Law Section 50-E. Due to this defect, Plaintiff filed an Order to Show Cause seeking authority from the Court to serve a late notice of tort claim. This application in NY is generally freely granted to allow claimants to seek recovery on the basis of merit. Nevertheless, we filed our opposition with a Motion to Dismiss advising the Court that Plaintiff again failed to adhere to statutory requirements of New York General Municipal Law Section 50-E(7), where Plaintiff did not attach a copy of an Amended Proposed Notice of Claim to their Order to Show Cause. After a prolonged oral argument, plaintiff's claims against our client was dismissed in its entirety.

Obtained summary judgment on behalf of our client in a product defect and breach of warranty matter. Plaintiff instituted suit against our client, Vessel Engine Manufacturer, in Federal Court, Eastern District of New York, alleging product defects, breach of warranty and violation of the Magnuson-Moss Act in connection with the rebuild of vessel engines. During discovery we were able to obtain testimony demonstrating that the plaintiff's actions resulted in the limitation of our experts' ability to inspect the engines in an unaltered condition. We moved for summary judgment on the basis that all of plaintiff's claim necessitated expert testimony regarding specific alleged failures of the engine parts which could not be challenged by our experts since the parts were not adequately preserved.  After a prolonged oral argument, plaintiffs' claims against our client were dismissed.
Thought Leadership

Classes/Seminars Taught

Strange New World - Economic Loss in Marine Cargo Claims, ILG 360º London Annual Conference 2023, March 15, 2023

Maritime Construction Accidents – To Longshore or To Labor Law THAT is the Question, Marshall Dennehey Client Presentation, February, 2018

Battle Between State and Federal Law in Admiralty & Maritime Cases – And Impact on Marine Insurance, Marshall Dennehey Client Presentation, February, 2018

Effectively Managing Maritime Litigation Issues, Marshall Dennehey Client Presentation, February, 2018

Wrap-Up Insurance Policies, Anti-Subrogation and the Practical Applications of These Topics, Marshall Dennehey client presentation, September 13, 2017

Effectively Managing Maritime Litigation, Client Seminar, New York, NY, August 2017

Defending Construction Accidents, Client Presentation, 2015

Commercial Defense Practice in New York, New Jersey & Pennsylvania, Nationwide Insurance Company, December 5, 2014

MRSA and Hospital Infections - Plaintiff and Defense Perspectives, and Epidemiological Overview, Mealey's Litigation Conferences, March 2009

Published Works

"The Witch Is Dead… For the Most Part. Punitive Damages and Maritime Claims," Defense Digest, Vol. 25, No. 3, September 2019

Reported opinion by the New York State Law Reporting Bureau pursuant to Judiciary Law § 431: United Tit. Agency, LLC v Surfside-3 Mar., Inc. 2008 NY Slip Op 52248(U) [21 Misc 3d 1127(A)]
Admissions
U.S. District Court Southern District of New York
U.S. District Court Eastern District of New York
U.S. District Court Northern District of New York
U.S. District Court District of New Jersey
U.S. Court of Appeals 2nd Circuit
U.S. Court of Appeals 3rd Circuit
Education
Rutgers, The State University of New Jersey School of Law-Newark (J.D., 2005)
New York University (B.A., cum laude, 2002)
Honors & awards
AV® Preeminent™ by Martindale-Hubbell®
Associations & memberships
Maritime Law Association of the United States - Proctor in Admiralty
Marine and Insurance Claims Associaition, Board Member
New Jersey State Bar Association
New York County Bar Association
Certifications
Certified Proctor in Admiralty, 2019