James P. Connors
Co-Chair, Aviation Litigation Practice Group
Senior Counsel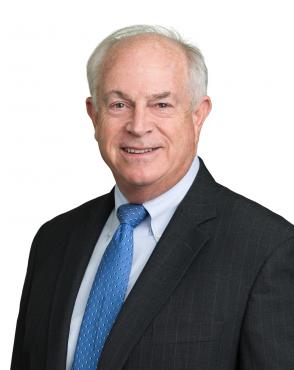 Contact Info
(212) 376-6460
Overview

Jim is a shareholder who divides his time between the Westchester and Manhattan offices. He has 37 years of litigation experience in a diverse range of practice areas including premises liability, product liability, aviation liability, professional liability and employment liability. Jim also has extensive experience in defending security and general negligence cases. He served as one of the lead counsel in the casualty litigation arising from the terrorist attacks on the World Trade Center in 2001, a loss involving extensive loss of life and $4 billion property damage claims.

Jim has a robust product liability practice. He has defended manufacturers of aviation products ranging from jet engine reverse thrusters to aviation rivets utilized in commercial helicopters. He has also defended manufacturers of industrial products including commercial meat grinders, industrial saws and commercial products including window blinds, sofas and bedding.

Among his many clients, Jim represents the single largest security company in the world of which Yankee Stadium in New York City is a client. Within this area of practice, Jim has represented security companies in the defense of allegations of false arrest and malicious prosecution. He is currently involved in representing one of the largest retailers of clothing in the United States in litigation involving allegations of commercial fraud and failure to properly provide a safe environment in which to shop. Jim also represents two of the largest hotel chains in the world, one for which he has served as counsel for more than 25 years. Many of his security cases in the hospitality arena have dealt with allegations of failure to provide appropriate guest security, to the alleged improper placement of dance floors and other hotel amenities.

In his health care liability practice, Jim represents physicians and hospitals in medical malpractice cases ranging from failure to diagnose cancer to allegations of failure to diagnose and properly treat intrauterine complications.

Jim began his litigation career at the medical malpractice defense firm of Bower and Gardner, thereafter moving to Cigna. There he became a seasoned trial attorney handling complex litigation including the defense of a major motorcycle manufacturer in a wrongful death product liability lawsuit. Jim then moved on to what would become Jones Hirsch Connors Miller & Bull where he was instrumental in the firm's growth and success during its 35 years of existence.

Jim has published numerous articles in various legal journals including the New York Law Journal and the New York State Bar Association Journal and has lectured regarding litigation and product liability litigation on behalf of a major carrier to consumer product manufacturers in Seoul, Korea. Jim practices generally in the New York City Metropolitan area and has handled matters not only in New York State but in Connecticut, New Jersey and Pennsylvania.
Results

Significant Representative Matters

Served as co-lead defense counsel in the single largest casualty property case in American jurisprudential history: In Re September 11th Litigation.

Defense of major hotel chain based upon allegations of sexual assault arising out of conduct of a guest in the Netherlands.

Defense of the Estate of John Fitzgerald Kennedy, Jr. following his tragic aircraft accident resulting in his death and that of his wife and sister in law.

Defense of large international not for profit conservation society in a major case involving the death of a one year old infant and the permanent impairment of her mother.

Defense of large international retailer arising out of allegations of product liability negligence in the manufacture of window shades resulting in the death of a one year old infant.

Defense of large furniture manufacturer arising out of allegations of product liability resulting in permanent neurological injury to infant.
Thought Leadership

Classes/Seminars Taught

Hyatt Security Seminar, New York, 1994, 1992

Defending Catastrophic Injury Cases, CIGNA Senior Attorney Training Program, January 1992

Malpractice in Ophthalmology, American Academy of Ophthalmology, co-presented with Vivien Boniuk, M.D., J.D, Annual Conference, New Orleans, November 1986; Dallas, October 1987; Las Vegas, October 1988; New Orleans, October 1989; and Atlanta, October 1990

The New York State Medical Malpractice Reform Act of 1985, Association of Hospital Risk Managers, presented at Mount Sinai Hospital, November 1985

Hospital Liability Seminar, New York Law Journal, July 1985

Medical Malpractice: Its Avoidance Through Foresight, Bellevue Hospital, September 1984

Workshop in Medical Malpractice, Law & Medicine, New York University School of Law, Graduate Division, and New York University School of Medicine, August 1982

Published Works

"Assumption of Risk: New Thinking on Old Concept," New York Law Journal, p.1, August 15, 1997

"Workers' Compensation Reform Legislation," New York State Bar Journal, Vol. 69, No. 1, January 1997

"Medical Malpractice Ramifications of President Clinton's Health Security Act," ABA, Torts and Insurance Practice Section, Trial Techniques Committee, p. 4, Spring 1994

"Medical Malpractice Effects of Clinton's HSA," New York Law Journal, p. 1, February 25, 1994

"Assault on an Effective Way to Expose Fraud," New York Law Journal, p. 1, December 1, 1993

"Departmental Dispute: Let's Go to the Video Tape," New York State Bar Journal, p. 42, July/August 1992

"Edmonson v. Leesville Concrete Co.: Effect on the Civil Jury Selection Process," New York Law Journal, p. 1, August 9, 1991

"Marte v. W.O. Hickok: Should We Fear Flying Horses? - Discoverability of Video Tapes," New York Law Journal, August 7, 1990, p. 1, col. 1, republished INCL Journal, Vol. 19, No. 2, December 1990, p. 44

"Impact of Mandatory Periodic Payment of Judgments," New York Law Journal, August 16, 1988, p. 1, col. 1

"Pandora's Box Opened in Expansion of Recovery for Emotional Distress," New York Law Journal, August 4, 1987, p. 1, col. 1

"An Analysis of New York's Medical Malpractice Reform," New York Law Journal, August 15, 1986, p. 1, col. 1

"New York's Controversial Medical Malpractice Bill," New York State Bar Journal, Vol. 58, No. 2, February 1986

"Medical - Legal Forum, Medical Malpractice Reform Laws," Manhattan Medicine, Vol. 4, No. 1, November 1985

"Analysis of Comprehensive Medical Malpractice Reform Law," New York Law Journal, August 13, 1985, p. 1, col. 3

"Hospital Liability," Medical Trial Technique Quarterly, Spring 1984, p. 393

"The Bad Faith Action—Insurers' Nettlesome Problem," New York Law Journal, September 20, 1983, p. 1, col. 1

"Hospital Liability, Treatment of the Institution, Past Present and Future," The Nassau Lawyer, Vol. 29, 1981

"Should Physicians Have the Right to Approve Insurance Settlements for Alleged Malpractice/Point-Counterpoint," Law, Medicine, and Health Care, October 1981

"The Expanding Parameters of Hospital Liability," New York Law Journal, April 21, 1981, p. 1, col. 1

"Opinion Evidence: It's Time to Change Rule on Admissibility," New York Law Journal, January 13, 1981, p. 1, col. 1
Admissions
U.S. District Court Eastern District of New York
1978
U.S. District Court Southern District of New York
1978
U.S. District Court Western District of New York
1978
U.S. Court of Appeals, District of Columbia Circuit
Education
New York Law School (J.D., cum laude, 1977)
New York University School of Law (LL.M., 1985)
Herbert H. Lehman College of the City University of New York (B.A., 1974)
Honors & awards
AV® Preeminent™ by Martindale-Hubbell®
New York Metro Super Lawyer
2006, 2010-2020
Associations & memberships
American Bar Association, Litigation Section
American Bar Association,Tort and Insurance Practice Section
American Society of Law and Medicine
Defense Association of New York
New York County Lawyers' Association
New York State Bar Association, Committee on Aviation Law, 1987-
New York State Bar Association, Insurance, Negligence and Compensation Law Section
New York State Bar Association, Trial Lawyers Section