Daniel J. Sherry
Senior Counsel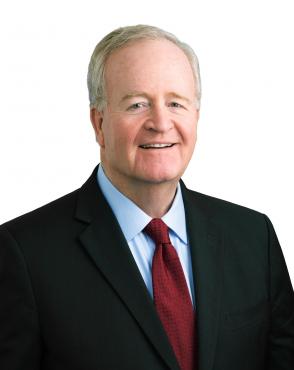 Areas of Practice
Contact Info
(610) 354-8260
Overview

For more than 30 years, Daniel has devoted his professional efforts almost exclusively to the defense of health care providers in professional liability matters. He serves as the vice chair of the firm's Health Care Liability Practice Group and has represented hospitals, physicians, long-term care facilities and other health care providers in professional liability claims. He also represents attorneys in professional liability claims.

Dan has been involved in numerous high-exposure cases ($1 million or higher) where the defense has involved retention of numerous sophisticated experts, especially in claims involving brain-injured infants. A number of those cases have proceeded to jury verdict, with defense verdicts being the result in the great majority of cases. Dan has started more than 500 jury trials in his career, and he has tried approximately 350 cases to verdict, including approximately 200 verdicts in the field of medical professional liability. He has secured defense verdicts in approximately 95 percent of the cases he has tried to verdict.

Throughout his career, Dan has represented hospitals and large physician groups in the greater Philadelphia area and surrounding suburban counties. He is often involved in cases where multiple experts are retained (as many as eight to 10) who deal with issues of standard of care, causation, relationship of other medical conditions to the injury in question, life expectancy, damage claims, economic losses, etc. Through the use of often complicated coordination of such experts, Dan has secured either settlements or verdicts that are far below the damage claims sought by the plaintiffs.

Two prestigious industry organizations have recognized Dan's accomplishments and track record in trial advocacy. In 1999, he was named a Fellow of the American College of Trial Lawyers, an accomplished group of approximately 5,000 lawyers drawn from the United States and Canada. Fellowship is by invitation only and is extended to no more than one percent of the total lawyer population of any state or province. Additionally, in September 2014, he was inducted into the International Academy of Trial Lawyers, an organization of elite trial lawyers representing both sides of the bar. Membership is limited to only 500 lawyers in the U.S., and 5,000 internationally, and is offered only to lawyers who have demonstrated skill and ability in jury trials, trials before the court and in appellate practice, and to those who have attained the highest level of advocacy. In addition to these organizations, Dan is also a member of the Defense Research Institute, Pennsylvania Defense Institute, and the Pennsylvania, Delaware County, Chester County and Montgomery County Bar Associations. He has also lectured extensively at various Pennsylvania Bar Institute seminars on topics germane to medical professional liability matters.

Dan has served as an arbitrator and mediator in a number of matters over the years and on two occasions presided over jury trials in Delaware County as a judge pro tem. As a Civil Case Master for the Montgomery County Court of Common Pleas, Dan conducts conferences on civil cases and makes recommendations to the supervising judge regarding deadlines for discovery, exchange of report experts and other matters.

As a member of then Governor-elect Rendell's task force on medical malpractice, Dan was part of a multi-professional group that examined the nature, extent, and cause(s) of the medical malpractice crisis and made recommendations for changes on such issues as venue, expert testimony, MCARE and coverage.

As an active member of his community, Dan is on the honorary board of trustees for the Radnor Educational Foundation. He is also involved with the Radnor ABC program, which provides a group home setting for academically gifted students from disadvantaged school districts and allows them to be educated at Radnor High School. Dan also participates in the Philadelphia Club of Notre Dame University's high school visitation program and is the alumni class representative for St. Joseph's Preparatory High School in Philadelphia.

A 1972 graduate of the University of Notre Dame, Dan received his Bachelor of Arts degree in English. Thereafter, he graduated from the Temple University School of Law in 1975. While in his second year of law school, Dan entered into a clerkship with Marshall Dennehey. Upon graduation, he began working for the firm as an associate attorney. He was elected a shareholder in the firm in 1982.
Results

Significant Representative Matters

Morehead v. Crozer Chester Medical Center – Pennsylvania Supreme Court ruling limiting medical damage claims to the amounts actually paid by the patient or his/her insurer, preventing plaintiffs from claiming medical expenses in excess of those actually incurred.
Thought Leadership

Classes/Seminars Taught

The Intersection of Workers' Compensation and Health Care, Marshall Dennehey Workers' Compensation Seminar, October 24, 2019

Mistakes Made, Lessons Learned, The Philadelphia Association of Defense Counsel, December 19, 2017

What is Your Case Worth When Analyzed and Compared Over the Last Several Years?, Delaware County Bar Association, December 7, 2016

Legal Implications of Documentation, Association of Rehabilitation Nurses REACH Conference, October 1, 2016

Highlights in Pennsylvania Medical Malpractice Law, Philadelphia Area Society of Healthcare Risk Management, January 28, 2016

The Do's and Don'ts of Trial Advocacy, Health Care and Health Law Seminar, Marshall Dennehey, November 5, 2015

The Direct and Cross-examination of Experts and Closing Arguments, Chester County Advocacy Academy, Fall 2015

Trial Advocacy, Temple University Beasley School of Law, Spring 2015

Medical Malpractice Update, Pennsylvania Bar Institute, December 2014

Do the Right Thing! - Ethical Issues Arising in Litigation, Philadelphia Bar Association's Bench-Bar & Annual Conference, October 18, 2014

What MedMal Defense Lawyers Need to Know about the New Benevolent Gesture Law ... and Don't Need to Apologize for Asking, Pennsylvania Bar Institute webinar, November 20, 2013

Various seminars and presentations presented to the Chester County and Delaware County Bar associations, as well as various professional organizations

Published Works

"Who Pays the Bills? Who Is Responsible for Continuing Defense Where Annual Aggregate Policy Limits Are Exhausted & Remaining Claims Are Within CAT Fund's Indemnification Obligation?," Defense Digest, Vol. 4, No. 6, 1998

"Understanding the Moorehead Decision: Hospital Receives Set-Off," The Legal Intelligencer, March 1998

"Must a Hospital Ensure That Its Staff Physicians Maintain Professional Liability Insurance Coverage?," Defense Digest, Vol. 2, No. 8, 1996

"What Is the Potential Liability of a Hospital When a Pregnant Patient Makes a Treatment Choice Which Could Affect the Well-Being of Her Unborn Fetus?," Defense Digest, January 1996

"Another Look at Informed Consent," Defense Digest, November 1995

"The Non-Compliant Patient," Defense Digest, October 1995

"Doctor's Dilemma: When Treatment Choices Affect the Unborn," Hospital & Healthcare News, June 1995

"A Case of Corporate Liability," Defense Digest, April 1995

Legal Teaching Position

Adjunct Professor of Trial Advocacy, Temple University Beasley School of Law, 2014-2016, 2018, 2019

Pro Bono Activities

Civil Case Master, Montgomery County, Pennsylvania, Court of Common Pleas, 2016-present
Education
Temple University School of Law (J.D., 1975)
University of Notre Dame (B.A., 1972)
Honors & awards
American College of Trial Lawyers, Fellow
AV® Preeminent™ by Martindale-Hubbell®
The Best Lawyers in America©, Philadelphia Personal Injury Litigation-Defendants "Lawyer of the Year" 2013, Personal Injury Litigation – Defendants
2006-Present
Pennsylvania Super Lawyer
2004-2021; Top 100 Pennsylvania: 2006, 2008-2021; Top 100 Philadelphia: 2007-2021
Associations & memberships
Chester County Bar Association
Delaware County Bar Association
International Academy of Trial Lawyers
Montgomery County Bar Association
Pennsylvania Bar Association
Pennsylvania Defense Institute