Charlene S. Seibert
Shareholder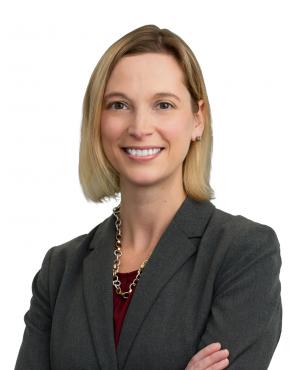 Areas of Practice
Contact Info
(412) 803-2442
Overview

Charlene is a member of the Professional Liability Department, where she dedicates her practice to the defense of attorneys and other professionals. Primarily, Charlene defends attorneys in legal malpractice actions covering a wide range of practice areas, including medical and dental malpractice, real estate and title insurance, estate and probate matters, divorce and support, complex business transactions and commercial litigation. Additionally, Charlene represents attorneys sued for intentional conduct arising from their representation of a client, including claims of defamation, abuse of process and statutory claims for wrongful use of civil proceedings. In cases where a lawsuit has not yet been filed, Charlene has served in a claims avoidance capacity, including navigating through conflicts of interest that may arise through the course of a lawyer's representation and undertaking mitigation efforts to salvage underlying litigation or otherwise reduce potential damages. As well, Charlene has assisted counsel in responding to disciplinary complaints made against them with the Pennsylvania Disciplinary Board. She is also an active member of the Pennsylvania Bar Association Professional Liability Committee and the Allegheny County Bar Association Professional Liability Committee, where she frequently addresses prominent lawyer liability and insurance issues, and is a frequent speaker on topics of legal malpractice avoidance.

Charlene began her practice representing lawyers and other professionals in 2006, after graduating in the top 10% of her class at the University of Pittsburgh School of Law. Through law school, Charlene served on the executive board for the Pittsburgh Tax Review as the articles editor where she ensured the accuracy of legal propositions asserted by tax professionals and improved the authors' writing techniques. Also while in law school in 2004, Charlene joined Marshall Dennehey as a law clerk and upon graduation continued with the firm in the Professional Liability Department.

Prior to law school, in 2002 Charlene graduated from John Carroll University, magna cum laude, where she obtained her Bachelor of Arts degree in Political Science. She was inducted into Pi Sigma Alpha Political Science Honor Society and awarded the Kathy L. Barber Outstanding Scholar Award in Political Science for graduating seniors. Also during her time at John Carroll, Charlene served as an intern for the U.S. Export Assistance Center in Cleveland, Ohio, a division of the United States Department of Commerce, where she assisted small and medium-sized businesses with regulatory compliance issues and market research relating to the exportation of goods.
Results

Significant Representative Matters

Summary Judgment granted in favor of lawyer-client after successfully arguing that plaintiff would have lost his underlying case due to certain immunities and privileges contained in Pennsylvania's Mental Health Procedures Act.

Successfully defended an attorney in an arbitration trial arising from attorney's representation of plaintiff in child support proceedings, after arguing that plaintiff's expert be precluded from testifying at the hearing and that plaintiff otherwise failed to establish actual loss or harm.

Motion to Dismiss granted to defendant in a legal malpractice case arising from alleged improper advice provided to plaintiff in bankruptcy proceedings, resulting in plaintiff's denial of discharge. Successfully argued for the application of collateral estoppel on the basis of the bankruptcy court's prior rejection of plaintiff's reliance on the advice of counsel defense.

Summary judgment in defamation lawsuit against attorney representing Board of Directors following termination of employees on the basis of the "fair comment" privilege, an often under-utilized defense in Pennsylvania defamation cases.

Summary judgment granted in favor of lawyer-client accused of stipulating to an inferior form of DNA testing on behalf of plaintiff who was wrongfully convicted of murder, successfully arguing that the statute of limitations was triggered upon the termination of the attorney-client relationship as a matter of fact and not the date the attorney withdrew his appearance of record.

Summary judgment granted in favor of lawyer-client in legal malpractice case, successfully arguing that attorney served in capacity as closing agent, not lawyer, in the subject transaction.
Thought Leadership

Published Works

Pennsylvania Legal Malpractice Handbook, 2017 Edition, 2019 Edition, Published by Marshall Dennehey Warner Coleman & Goggin, Co-author

"Another Crack In the Dam: "Narrow" Class of Beneficiaries Who May Sue Attorney Without an Attorney-Client Relationship Not So Narrow After All," Defense Digest, Vol. 21, No. 2, June 2015
Admissions
U.S. District Court Western District of Pennsylvania
2006
Education
University of Pittsburgh School of Law (J.D., cum laude, 2006)
John Carroll University (B.A., magna cum laude, 2002)
Honors & awards
Pennsylvania Super Lawyers Rising Star
2018-2019
Associations & memberships
Allegheny County Bar Association
Allegheny County Bar Association, Lawyer Insurance Committee
Allegheny County Bar Association, Amicus Curiae Brief Committee
American Bar Association
Defense Research Institute
Pennsylvania Bar Association, Professional Liability Committee